THE LANDSCAPE ARCHITECTURE ELEMENTS THRIVING IN CHINA'S HOSPITALITY ENVIRONMENT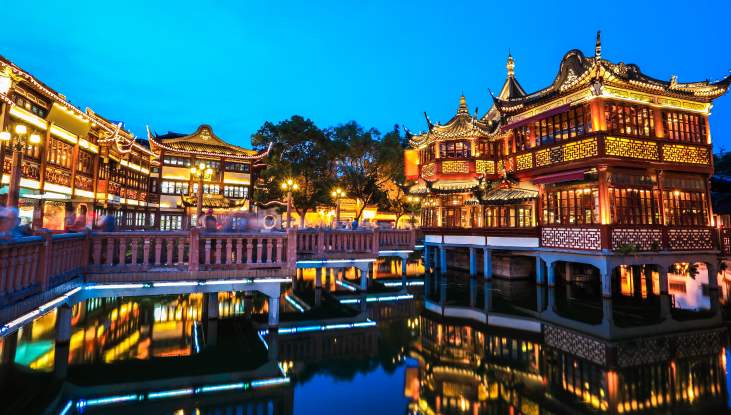 With both domestic and international tourism increasing, China continues to rely on international firms to help set trends in hospitality landscape architecture design
Global landscape architecture and master planning firm, SKS Studio, has brought fully immersive outdoor designs to resorts, residential and commercial development projects in 50 countries around the world. The Asian region, in particular China, is an area experiencing tremendous growth in the hospitality sector, driven largely by a thriving, vibrant middle class, an increase in domestic tourism, and vast natural resources, which run the gamut between idyllic beaches and sprawling mountain ranges to rural terrain and urban cities.
It is estimated that China's travel market will grow at a compound annual rate of approximately 11 percent between 2012 and 2030. Driving this growth is China's rapidly expanding population of middle-class and affluent consumers with a strong desire to travel, both domestically and abroad. Domestically, Pearl River Delta, Yangtze River Delta and Bohai Rim are the leading regions, but also Western China is undergoing rapid economic development.
As domestic and international luxury hoteliers embark on new or reimagined hotels and developers build destination attractions, these are the landscape architecture elements we see that will dominate and shape 2019 and years ahead. They include nature's impact on wellness, destination theme parks and upgraded infrastructure in support of tourism.
Nature's Impact on Wellness
Global Wellness Institute released statistics in November 2018, reporting wellness tourism is growing twice as fast as tourism overall and is expected to reach $919 billion by 2022. North America leads this sector; however, China ranks number one for growth in developing markets up from 11th in 2013 to #3 today.
With travel in reach for both the affluent and middle classes, wellness destinations are becoming prolific in China's vast landscape. The landscape architecture designs range from blending restored Ming- and Qing-dynasty buildings with the local mountainous terrain to retreats built amid UNESCO heritage sites, as well as bringing natural elements into sprawling cities with skyscrapers in the background.
Whether developing in a rural or urban setting, China's wellness travel destination developers are relying heavily on landscape architects who can pay homage to the country's traditional designs promoting spiritual reflection, inspiration and renewal.
China's well-known environmental struggles are influencing landscape design materials. Rapid urbanization paved over Chinese gardens and land, which has led to necessary inclusion of sustainable materials and reintroduction of native plants. Both not only help to reverse environmental problems and plan for future ecology, but also re-introduce the calming influence of ancient garden's spiritual and cultural qualities.  
Destination Theme Parks
Due in large part to China's middle class's appetite and budget for leisure activities, the country's theme park industry is anticipated and on course to be the largest in the world by 2020. Numerous theme parks have opened in the past few years – Disney and Universal Studios included – and several more are set to open within the next and upcoming years.
Market research shows some of the most well-attended amusement parks are destination and themed. Yes, Disney and Universal Studios are successful in terms of Western influence. Yet, the long-term success of park themes based on Chinese culture and lore are teaching Western developers that they must take these cultural preferences into consideration.
Chinese company-owned theme parks are based on popular Chinese culture or media elements. For example, Songcheng in Hangzhou, which simulates a Song Dynasty setting, is the most popular cultural park and has continuously topped the records of highest attendance since its opening in 2014. A landscape architecture firm that can transform these elements into an immersive, cohesive experience is a necessity for developers attracting repeat tourists in this growing, yet competitive, market.
The theme park boom is not without Chinese government intervention. In April of 2018, the National Development and Reform Commission in China released, "In the development of theme parks we've seen unclear concepts, blind construction, imitations and plagiarism, low-standard duplication and other issues." Government scrutiny of theme and design quality and ingenuity makes it imperative to work with a landscape architecture design firm that can carry out a unique vision.\
Upgraded Infrastructure in Support of Tourism
China, the world's second-largest economy, is moving toward a service sector and consumer spending driven economy and away from one driven by trade and investment. A focus on tourism is a key part of that transition, and China's government is estimated to invest nearly $3 billion (more than 12 percent of the GDP) in its tourism sector.
China's National Tourism Administration is following a development guideline for the 2016-2020 period. Most notably, roads to China's most popular tourist attractions will undergo renovation to meet growing tourism demand. Plus, tourist destinations' internal transportation will be improved for easier access and use. An addition of inter-region bike lanes totaling 5,000 kilometers will not only promote travel, but also boost zero emissions.
At the turn of this century, He Guangwei, Executive Chairman of the National Tourism Administration of China, shared the country's goal "to become the world's leading tourism country." With many infrastructure projects near completion or close to it and more hospitality developers committing to projects in the region, the value of working with a landscape architecture design firm experienced in regional trends cannot be underestimated.
SKS Studio is a full-service, boutique master planning and landscape architecture firm, specializing in large- scale, mixed-use and hospitality related projects. Since 1997, the SKS team has participated in projects in more than 50 countries, totaling over $2 billion in construction, including The Royal Atlantis Dubai, Malliouhana Resort and Spa, Royal Towers at Atlantis, One & Only Palmilla, Belmond Cap Juluca and more. Visit sks-studio.com to learn more about the firm and their approach to landscape architecture around the world.